Fred is a middle aged man who returns to Ireland with nowhere to live but his car. When dope-smoking Cathal (played by 'Merlin' actor Colin Morgan) parks beside him, an unlikely friendship is formed and Cathal brightens up Fred's lonely world.

We caught up with star of 'Parked' and national treasure Colm Meaney to find out more about his first Irish film feature since Tom Collins' award winning 'Kings' was released in 2007.

How did you get involved with 'Parked'? It's your first Irish feature in quite a few years…

Darragh called me and said he had a script. He asked would I have a look at it. I read it and loved it. Then we sat down with each other - we checked each other out, sniffed around and all the usual stuff and then we said let's do it! It is as simple as that. I suppose it is has been a while since my last Irish feature, but I did 'A Whole Lotta Sole' with Terry George after 'Parked', which filmed up North this year.

What was it about the script that you liked?

Well, firstly I try to read a script from an audience's perspective first. I thought it was a beautifully written story and they were beautiful characters. Then, I would re-read it again from the point of view of the character. For me, the real clincher for 'Parked' was that Fred was a kind of character that I hadn't played before. It was going to be a challenge. I tend to be quite a 'big' actor - my performance can be a bit out there! And I admire actors who really go for it with their performances - Pacino is my hero!

But, I knew this role would require something very different. It is a subdued and internal kind of performance. I discussed the role with Darragh a lot and I asked him to keep an eye on me and to not let me go too far. So if he saw any acting that was too external for Fred's character, he would sit on me.

Fred is eccentric in many ways, but it is all internal. Playing Fred was a challenge for me. This is the main reason why I wanted to take on the role.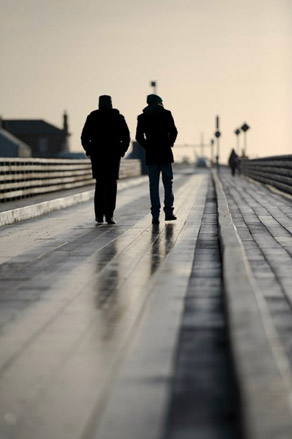 Colin Morgan & Colm Meaney in Parked
'Parked' will be released in America soon, how do you think Irish Americans might view this film, given that many have a romanticised view of Ireland and 'Parked' is quite unromantic?
I think younger Irish-Americans in the US, perhaps those who are there more recently, or in a more temporary way will be very open to it.
But I know exactly what you mean by their romanticised view of Ireland. Even going back to 'The Commitments', Irish Americans did not like 'The Commitments'. They would come up to me and say "Why did you have to do that? Why couldn't you show the nice parts of Dublin? Why couldn't you show Stephen's Green? Why couldn't you show Grafton Street?" And I'd think, hold on a second, we are not the Tourist Board. If you're making a picture in New York and it is about Fort Apache, The Bronx, you don't shoot on Park Avenue. That is where the story was set.
I'm sure there will be some of that with 'Parked', but that is par for the course. People who make those kind of comments are really silly. They should be going to a different type of movie - and they probably will.
'Parked' filmed in January 2010, largely in a car park on the Dublin Coast. Can you tell us a little about the shoot?
It was tough. I think it is probably one of the toughest I've been through. It was really really f***ing cold. It was wet. We had the snow, we had sleet, we had hail, we had rain, we had everything! And working on this kind of budget, we had very minimal creature comforts and we were lucky to have an old mouldy trailer to hide in when you could.
It's interesting because I've been through shoots like that and it is hard because people get short-tempered and everyone starts snapping at each other. Sometimes you lose sight of how good the material is and why you're doing it. I certainly did a bit on the 'Parked' shoot but I don't think Darragh ever did.
I think Darragh will agree, and won't mind me saying this, that our DP John Conroy was extraordinary, given the circumstances. I think he is the best I've worked with in many years and I've worked with a lot of good DPs. John is a horse of a man and he was out there in one of the worst winters in Ireland ever and nothing could stop him. He'd be going "Come on We can Do this!" and I'd be saying "Ah f* off John, leave me alone."
As I say he's a big strong man – he is massive - and yet he has the sensitivity of a master painter. It is beautifully shot.
What way was working with Darragh Byrne different than working with other directors?
Well, every director has their own temperament, tempo and methodology. Darragh is a first time feature director. He likes to talk things through and nail them down. To pin them down so we know exactly how we are going to do this, and this, and this. I'm a bit looser than that myself, so sometimes I'd be asking him to give it a rest and he'd laugh at himself and we'd get on with it. We had a very good relationship. Sometimes, we would look at each other sceptically and with the difficult conditions and all that it was hard. But he is a great guy, very talented. Every director is different though, it is all down to temperament.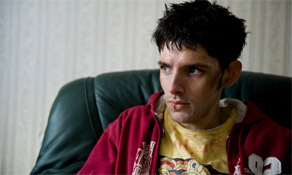 Parked star Colin Morgan
How was working with Colin Morgan? Were you familiar with him from 'Merlin'?
I hadn't seen 'Merlin' and I didn't know Colin. But he gives an extraordinary performance in this film - a heartbreaking performance. I knew when we were doing it that he was special.
Then when I saw the finished film, Colin blew me away. He is a terrific young actor. Even on a technical level, he is playing out of his own accent. He is from Armagh. Obviously he does 'Merlin' then, which needs a British accent and then he comes in and does this Dublin young fella and it is perfect. Stunning performance. I hope he gets the recognition he deserves.
Out of all your roles, what has been your favourite character that you liked playing?
I have to say, 'The Commitments', 'The Snapper', 'The Van'. Even though the character had different names, it was the same character. It was Jimmy Rabbite.
To get the opportunity to play the same character three times in three different movies outside of an action- adventure or Batman-type situation, is a very rare opportunity for an actor. That would be very much up there.
'How Harry Became a Tree' is another film I feel very strongly about. I love the film and I think Goran Paskaljevic (director) is one of the great auteur directors of the last 30/40 years. The film itself kind of got lost. We were at Venice in 2001, and it was very successful there. We had offers for US distribution, and then, we were on our way to Toronto that Tuesday morning and 9/11 happened and the film got lost in the shuffle. Toronto effectively closed down.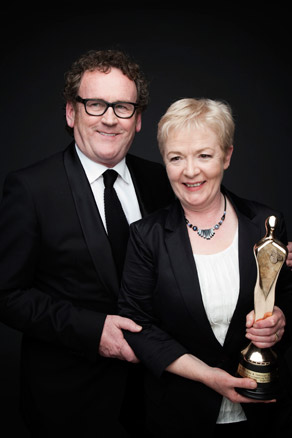 Colm with The Snapper co-star Ruth McCabe - IFTA 2011 © Photo: Barry McCall
With the Barrytown Trilogy movies, how do you feel they have aged? Do you still get people quoting your lines to you?
Yes, all the time! And my buddy Pat Laffan, who played Georgie Burgess, he gets a rough time around town still. But I think they have aged remarkably well. They don't look dated to me. And every seven years or so there seems to be a new generation introduced to them. You get people who can't have been more than seven or eight years old when we made those films, who are now talking about them.
What do you think makes Star Trek so special?
Before I did it, I never really understood the whole genre to be honest with you. But, I grew to appreciate it as we were doing the Deep Space Nine show because we got to deal with a lot of subjects that they wouldn't let you deal with in a contemporary show - episodes about homelessness, genetic engineering, and about racism. Racism between intergalactic species of course, but it is still about how to understand someone who is different than you. They might have three heads or a tail, it's a bit odd, but it is basically about relating to someone who is different than you. Issues like that were dealt with.
If you go into the future you can deal with these issues or if you go into the past. In 'Hell on Wheels', Common the rapper plays this freed slave who is working on the railroad - he was freed from slavery a year ago and things haven't changed much for him. We've got the Native Americans; West Indians; relationships between the Irish, the Italians the Poles, all these are explored in the show. It also deals with the environment and ploughing up the land. All these issues are there and dealt with realistically and they are all still relevant today. If you are working on a contemporary script, people can be very wary of tackling these issues in case they offend their audiences.
What is the dumbest made-up technology line you had to utter on Star Trek?
I don't remember! I had a lot of them. If you manage to get them into your head and out of your mouth, they are wiped instantly! I used to do a trick, when I'd get some of that techno-babble to say. I'd be playing the scene and I'd say by the way and then I'd turn around, back to camera and pretend to point/look or focus on something and then I could loop it afterwards. Most of the time, I didn't even learn them, I just read them.
What projects do you have coming up?
I have an AMC drama 'Hell on Wheels'. It is the story of the building of a transcontinental railroad 'The Union Pacific' in the 1860's. I've just been down in Cannes MIPCOM for the last four days promoting that and it's a great show – a beautiful script and great writing. We've done ten episodes and it starts airing November 6th in the states. It's AMC who do loads of great shows like 'Mad Men', 'Breaking Bad' and 'The Walking Dead', so hopefully that will take off.
For films coming out I have 'A Whole Lotta Sole' with Terry George, which filmed in and around Belfast earlier this year. I did a lovely picture late last year with Ray Winstone in Belgium called 'Hot Potato' and I also did 'Bel Ami' last year with an incredible bunch of women: Christina Ricci, Uma Therman, Kristen Scott Thomas…I played Kristen's husband.
******
'Parked' is directed by Darragh Byrne and stars Colm Meaney (Get Him to The Greek, Law Abiding Citizen, The Damned United), Colin Morgan (Merlin, Island), Milka Ahlroth (Twisted Roots, Kid Svensk, Onnen Varjot), Stuart Graham (The Whistleblower, Hunger), Michael McElhatton (Fifty Dead Men Walking, Intermission) and David Wilmot (All Good Children, Intermission).
It is written by Ciaran Creagh and produced by Dominic Wright and Jacqueline Kerrin for Ripple World Pictures and Aleksi Bardy for Helsinki Filmi.
DOP is John Conroy and post production took place in Egg post production in Dublin, with sound post and lab completed in Helsinki. Music for the film is provided by Niall Byrne (Small Engine Repair) and costume designer is Susan Scott (A Shine of Rainbows).
The film is financed by the Irish Film Board, Finnish Film Board, RTÉ and Section 481.
'Parked' will be released on October 14th and can be seen at Dublin: The IFI, Movies @ Dundrum, Movies @ Swords, IMC Dun Laoghaire, Screen Cinema; Cork: Gate Cinema; Galway: Eye Galway and Limerick: Omniplex Limerick.