Irish audiences were introduced to Robert Sheehan in the harrowing Irish feature, 'Song for a Raggy Boy'. Following this a constant flow of acting work started and has rarely let up since. Roles in feature films such as 'Summer of the Flying Saucer', 'Red Riding' and 'Cherrybomb' along with dozens of television series including 'Foreign Exchange', 'The Clinic', 'Bitter Sweet' and E4's ongoing 'Misfits' have kept this curly-haired Portlaoise export very firmly in the public psyche. IFTN spoke with him about getting in touch with his animal instincts, taking part in a very enjoyable casting session and looking for Ivan McCormick's twitch.
Living in London ("The Wesht-borough" he tells us.) since March, Robert speaks to us following a session in a recording booth where he is providing the voice of a turtle for a new 3-D feature from Optimum called 'The Adventures of Sammy: The Secret Passage'. The actor explains that this is to be the third version of the film. "It was originally a film in Belgium which was then re-dubbed for America and it is being re-dubbed again for the UK now." Dominic Cooper (Mamma Mia!) provides the voice of a fellow turtle in the film, which is narrated by John Hurt (V for Vendetta). The latter note seems to excite Robert greatly who describes John's "raspy, warm narration" with genuine awe.
The varying versions of the film seem to have prompted an evolution in Robert's character. "Mine, funnily enough is Irish," he starts. "But what's mad is that in the American version my turtle is played by Anthony Anderson who is, of course, black. So they've gone in a pretty different direction with this one!" It has ultimately proved to be a great experience for the Irish man though: "Ah, it's good craic – lots of hours in a sweaty booth, shouting at a screen!"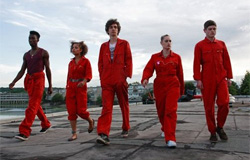 Robert (centre) with the cast of Misfits
Robert's 'Love/Hate' character Darren is currently visible (in all his leather jacket-ed glory) on billboards around the country and on TV screens. The four part drama series started last week and a second series is to shoot in May of next year. The series explores Dublin's gangland community with the first ten minutes alone taking in illicit affairs, murder, violence and several varieties of illegal activities. Did the cast - Robert, Aidan Gillen (The Wire), Ruth Bradley (Rasai na Gaillimhe), Briain Gleeson (Noreen) and Ruth Negga (Trafficked) find it easy enough to wind down after each days work? They seemed to have struggled by. "It was great aul craic!" Robert exclaims "I was with such a lovely bunch of lads and ladies and it was really like doing a play in Dublin because you'd all finish work and go 'Do you want to go for an aul pint?' And in that way we quickly gelled as a team! Because you're doing very serious stuff during the day the craic must be had in order to relieve yourself." 
Audiences in his adopted UK home know Robert best for his role in the E4 series, 'Misfits'. He stars as young offender, Nathan in the drama series which tells the tales of five young adults on community service for petty crime who find that they have superpowers after a powerful lightning storm strikes them. The second installment of the hit series will return to our screens in November with the last of the post production currently being tied up, which brought Robert back to familiar territory: "I was doing ADR today for that," he says, "back in another sweaty booth, just shouting at a 'Misfits' screen this time."
Robert can only give us a handful of details as to Darren's upcoming storylines. "He definitely comes back, I can let you know that here and now," he says, lest there be any confusion there. "A few significant things happen – a brother of mine comes back who's played by Sam Keeley, a wonderful young guy from Tullamore, which is brilliant. To be honest my guy just becomes more irritating and annoying!"
Moving closer to home, Robert was in Belfast at the start of the year to shoot Nick Hamm's 'Killing Bono'. The feature sees Ben Barnes (The Chronicles of Narnia: Prince Caspian) and Robert play brothers Neil and Ivan McCormick respectively. The pair formed a band in Dublin in the late 70s - but found themselves constantly compared to their classmates' band, namely U2. Promotional images for the feature see Robert sporting a wonderfully voluminous mop, one which even Jackie Collins would envy. Robert's own tresses? We boldly ask. "It's sadly not," he admits. "It's a wig that's been stuck in the back of my head and back-combed like you wouldn't believe. But the front is all me!"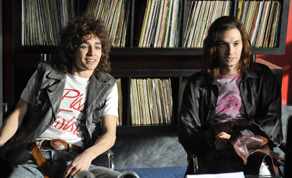 Robert with is Killing Bono co-star Ben Barnes
The film marks many departures for the actor. Along with marking his first foray into wig-wearing, 'Killing Bono' sees Robert take on his first factual role. "Yes, this is the first time that I've played an actual human being who exists already," he tells us. "So there probably was an element of sizing each other up, and Ivan saying 'Oh, so you're the one who'll be representing me on screen, are you?' And the real Neil and Ivan came up and did a kind of, not so much a cameo, but they were in the film." The examining did go the other way too, it would appear. "It was cool to meet the lads," Robbie says. "It was a great opportunity to ask them if there was anything they wanted included – 'You didn't have a twitch, did you?' and so on!"
The factual content of the feature does boast some dramatic touches, Robert tells us. "The story now is really different from what actually happened," he explains. "For instance, there's a scene in the movie where my character, Ivan does get into U2 but my brother doesn't tell me and lies to me about it. Whereas that didn't really happen. It's just to boost the drama a bit, you know!"
And of course, what with the film looking at the losing battle the McCormick brothers had with U2, Robert's songbird skills are of great importance. Though Ben Barnes' character Neil is the band's frontman, Robert was called on to add backing vocals and also has a solo track at the end of the film. As an experienced bodhrán, tin whistle and banjo player – did he also master the workings of the human voice with ease? "Well, it was good but I did need an assistant who could get about an octave higher than I can to make it a bit more valid." Further on that matter, Robert is quick to point out that he has come away with a fairly skewed impression of rock and roll stars' experiences overall: "We were on stage and they had brought in, basically, rent-a-crowd for the musical sequences," he tells us. "So we were on the stage with these fans screaming and jumping up and down - really we had very little to do to earn their appreciation. It was great fun, absolutely cracking!"
Robert has a busy year ahead. A very busy year. Along with the Irish shoot for a second series of 'Love/Hate' in May he has several features in the pipeline. One such feature is 'Wayfaring Strangers', a World War Two drama he is set to star in alongside Michael Gambon and Cillian Murphy. Asked about the Irish-French co-production from Treasure Entertainment and Chic Films he gives his take on the project: "The latest I've heard is that we're talking June or July now. Which is perfect because we'll all head out to France then for the summer and it'll be lovely. Laze about in the sun on deckchairs, it'll be great!"
Another interesting feature that Robert has signed up for is 'Acts of God', a B Good Picture Company film where he will play Dorian, a guardian angel who is not as helpful as the role might suggest. Robert is also hoping to jet off to Puerto Rico at the start of next year for the shoot of 'A Pinch of Paprika'. "I think it's going to be January/February when that kicks off and that'll be a nice few weeks in Puerto Rico," he tells us before elaborating about his fellow travellers. "It's going to have Christopher Lloyd in it, the Doc himself! And Elliot Gould, and they're playing Puerto Rican brothers. That'll be pretty damn cool."
Another notable feature coming up next year is 'Romeo and Gertrude', directed by comedian David Baddiel. Obviously the big question is which actress is going to play Gertrude to Robert's Romeo? Robert doesn't yet know, but he seems to be thoroughly enjoying the process of finding her: "They're in the process of casting her and what's bizarre is that they sent me on a list of girls and asked me to come in and read with them. And there's loads of . . . lovely girls. I know that makes me sound like the guy from 'Father Ted', but they really are all lovely!"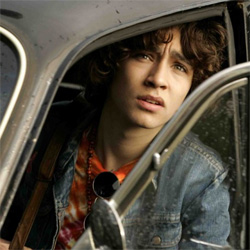 Robert in Summer of the Flying Saucer
Despite his occasional 'old-soul' replies - "I have my health indeed" - Robert is still only 22. And, with the exception of local drama groups, he has never received any formal acting training. So has he seen his instinctive methods of acting change over the last few years? "I suppose as you grow older your methods will change," he says. "And what you think is good will change. But instincts – whatever yours may be – will always stick with you. You'll always be the same blithering idiot on screen when it comes down to it!"
Robert goes on to explain his approach to his first few roles. "Whenever I had an idea over the years I would write it down in a little journal," he tells us. "And what's really funny is going back and reading it from the last few years - it's like you're a completely different person. And it's just like watching stuff like 'Summer of the Flying Saucer' because you see a different person."
A scan of his past projects and upcoming features sees a list of highly enviable co-stars emerging. When asked who his favourite has been so far a pause of a millisecond is all that's required. "Do you know who was a cracking man to work with and a hoot altogether? Ben Barnes. He's a delightful, delightful man and what was lovely about working with him in 'Killing Bono' was that we were playing brothers who were in each others shadows and we basically lived like that for seven or eight weeks. So much so that we even started finishing each others sentences. I'd consider him a real friend now, after that."
'Killing Bono' is set for a release early next year by Paramount Pictures and 'Love/Hate' broadcasts weekly on Sundays at 9.30pm on RTÉ One.