'Father & Son', RTE One's latest summer drama will premiere Monday June 29 at 9.30pm. A co-production between RTÉ and ITV, this four part drama which has a formidable cast of actors including Dougray Scott, Stephen Rea and Sophie Okonedo, is tipped to be rich, compelling and highly entertaining.
The drama, which is set in Manchester and Dublin, was almost entirely shot in Dublin and Wicklow creating important revenue and employment for the Irish television industry. Produced by Left Bank Pictures (The Damned United) and co-produced by Ingenious Broadcasting and Octagon Films (RAW, Ondine), with the support of investment incentives for the Irish film industry provided by the Irish Government and the participation of Bord Scannan na hÉireann/Irish Film Board, this drama which has plenty of Irish influences has an award winning cast and promises viewers a taste of what can be expected from future partnerships between the two broadcasters.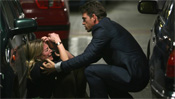 Flora Montgomery & Dougray Scott
Director of the project was Brian Kirk (My Boy Jack, Middletown), whilst producer was Micheal Casey (My Boy Jack, Middletown), the script was written by Emmy award winning Irish writer Frank Deasy (Prime Suspect: The Final Act) and DOP wasRuairi O'Brien (Running Mate). These talents coupled with an all star cast including Dougray Scott (Mission Impossible II), Stephen Rea (The Crying Game), Sophie Okonedo (Hotel Rwanda), John Kavanagh (The Tudors) and Flora Montgomery (When Brendan Met Trudy) guarantees that audiences are in for a treat with this four part series.
'Father & Son' focuses on ex-criminal Michael O'Connor (Dougray Scott) who returns to Manchester from a quiet life in Ireland with his pregnant girlfriend Anna (Flora Montgomery) in order to save his teenage son Sean from prison and to redeem his own troubled past.
IFTN caught up with the series producer Michael Casey to talk about the scale of the series, Dublin as a shooting location and the powerful combination of Irish and world class talent.
Can you tell us a bit about the partnership between ITV and RTÉ and how this came about?
The show was commissioned by ITV but the scripts that Frank delivered and which everyone wanted to realise were beyond the scope of a regular UK drama budget. In looking to the story for a solution to this we began to investigate the potential of bringing the production to Ireland where part of the drama was set, fortunately for us both RTÉ and the Irish Film Board responded to the material and were keen to get involved. The scripts allowed a very natural co-production to take place and this in turn enabled us to really make the show we wanted to.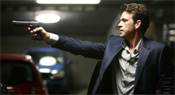 Father & Son
Did the script/casting etc change with RTÉ coming in on the project?

No RTÉ were involved prior to the final scripts and casting so naturally they had views on both areas, which were very helpful as it happened, but we were never in a position where something was compromised in order to tick a box at either broadcaster.
This is your first television series project as a producer – did you find that much different to your other feature projects?
It's certainly different in terms of scale. Whatever you make you tend to put every ounce of physical and emotional energy into it, so the bigger the project the greater the demands put on everyone. Fortunately though, this also makes it more rewarding on every level. It's definitely given me a taste for this kind of show and it's an experience which I hope to repeat.
You had an amazing line up for the cast - how did you manage to get everyone on board, did it take long to find the perfect fit?
We were very lucky to get our first choices pretty much across the board. I think in the first instance an actor is attracted by the script and, in our case where all four scripts weren't available when we did most of the casting, it's also the potential promised by the writer. Frank is someone that actors really respond to, so that's a great start. After that it's really about the director and Brian is really the directing equivalent of Frank, actors who meet with Brian always want to work with him.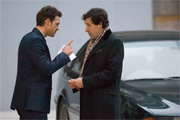 Dougray Scott & Stephen Rea
Where exactly did you shoot in Ireland? Why did you choose those locations?
We were based at offices in Crumlin and shot around the city, along the Quays and in Wicklow. We recce'd Manchester with our location manager Eoin Holohan and design director very early in the process and I think that helped a lot. They both did a great job in turning Dublin into Manchester. The variety of architecture in Dublin is a great strength; this with the fact that Section 481 is available for television in Ireland will continue to attract production from the UK, provided the exchange rate doesn't shift even more.
It's set in Manchester, were any scenes filmed there?
Yes we shot in Manchester for a couple of days, primarily some traveling sequences and city establishers.
What was the duration of the shoot?
52 days approximately most of it in Dublin.
What was the biggest challenge of this particular project?
It was really the sheer size and scale of it but as I say that also made it so much fun.
What facilities companies were used on this project?
As ever, Brian and I worked closely with Screen Scene and it was our first shoot using the Red One camera from the Production Depot, so it was a challenge for everyone. It was more than worth it though as the image quality which the Red One delivers is simply fantastic.

This is your fourth major project now working with Brian. Are you likely to team up again in the future?
Yes, Brain and I have been working together now for more than a decade. It's been a lot of fun and really rewarding so hopefully we will do something else soon.
Has your working relationship changed much since the early days of making the shorts?
Our relationship has certainly developed but it's still based on the fact that we trust each other and have a great time working together.
What can audiences expect from 'Father & Son'?
I think they can expect to go on a powerful, emotional and entertaining journey. We have really tried to tell a complex and rich story in as an exciting and engaging way as possible. I hope everyone likes it and I hope everyone watches it.
'Father & Son' RTÉ One Monday 29th June at 9.30pm

Cameras: The Production Depot
Lighting: Cine Electric
Post Production: Screen Scene