Lance Daly's third feature film 'Kisses' goes on nationwide release from Friday 21st November. Having charmed audiences at international film festivals, IFTN talks to the director on the challenges of directing kids and the influence of 'musical god' Bob Dylan in the film.
Since premiering at this year's Galway Film Fleadh and picking up the Best Feature Award, 'Kisses', directed and written by Lance Daly (The Halo Effect, Last Days in Dublin), has been a major contender on the international film circuit having screened at Toronto, Lorcarno, Telluride and London in the past few months.
Produced by Macdara Kelleher at Fastnet Films and the Swedish production company Zentropa, the film follows the story of two youths, Dylan and Kylie, who having run away from home at Christmas survive a night of both magic and terror on the streets of inner city Dublin, through the kindness of strangers and the advice of Bob Dylan. The film presents newcomers Kelly O'Neill and Shane Curry alongside Paul Roe (Adam and Paul), Neili Conroy (Intermisson) and Stephen Rea (Breakfast on Pluto).
Daly has who previously directed and written the Irish features 'The Halo Effect' and 'Last Days in Dublin' talks to IFTN on how a five week shoot turned into a ten week shoot and how he will never steal his leading lady's jelly beans again.
IFTN: Lance, what attracted you to casting the two young leads in 'Kisses' seeing as they had no previous acting experience?
LD: Nick McGinley was the casting director. He went to all the schools and saw thousands of kids with a video camera and got them to run around. He then picked out a short list, showed me some tapes and we got it down to fifteen boys and fifteen girls. The boldest children from each school basically! We brought them all into the office on the longest, most painful Saturday of my life and we went through each of them. We tried a million personality tests to try and get it really down. Kelly just emerged entirely unique from everybody else from the start. She just didn't really need any encouragement from anybody, not because she was jumping around the place or showing off, she didn't need anybody to say "You're great". She was just tough enough. Shane was the only lad who could stand up to her. With all the other boys, she had them making her tea and running around after her. Shane was just like "Do it yourself!"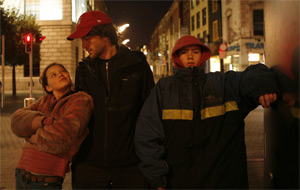 Kelly O'Neill, Lance Daly, Shane Curry on set
What was it like for you directing them on set?
It was a nightmare. Everybody who interviews them says 'How did you make a picture with them?' because they were so mad, particularly Kelly. I chose the two because of what you see in the film. I thought if that was what we could get out of them, than that would be right. I think some of the others who were involved in the production saw the chaos that was going to come with them. We knew they were the tricky choice but it totally paid off.
We were actually going to fire Kelly on the third day. I took a packet of jelly babies off her because she wasn't allowed any sugar, so I said "Give me them"- instead of getting someone else to take them off her which is what I should have done. Because I took them she had a fight with me saying "I'm not being in your film, I don't want to do this". She went into her room and put a coat over her head. She didn't come out for the whole day. She only communicated by text message to another fella, and wouldn't even speak. A whole day we lost of shooting. We were just standing there trying to convince her and we said we would have to replace her as good as she is. Then the footage came in from the first day and we watched them and she was so brilliant in it.
I was watching it saying "Oh my god, she is brilliant we'll have to suffer it". The suffering just got more and more because she knew, at ten years old, that we needed her and a few weeks in she knew there was no going back and just made everything hard. It was worth it, you know, I don't think you would get a performance like that every day.
What has it been like, having your film screen at prestigious festivals like Toronto?
Toronto was great. Lorcarno was the first festival – that was brilliant, we got a big standing ovation there. Then it was Telluride - which I didn't realise was such a bid deal until we got there but it turned out to be the hip festival. They take in few films and everybody there are really serious filmmakers and film-goers.
When we played at Telluride we were the talk of the festival because it is all about word of mouth since everybody has to queue for movies. They liked the film so much that they gave us the opening screening and as it's really a tiny town, everybody on the queues knows what's good and not good because they are all taking in the queue before the films. 'Kisses' was really the talk of it and we were running away with it but then Danny Boyle turns up with 'Slumdog Millionaire', which was a surprise announcement at the end of the second day, and kind of snowed us under a little bit. That's meant to be a really phenomenal film, I haven't seen it yet and it went to Toronto and won the audience prize and I was going "oh no, any other year" you know. But it went great, the Americans really responded to 'Kisses' and Toronto was brilliant, it being a big festival.
In Toronto, a lot of the audience (we only found out later) is festival programmers from around the world. I mean we got so many e-mails the next week saying "I saw it in Toronto" and we were thinking half those audiences must have been other industry people. The weird thing that happened was that the film got past around from a screener that we had sent to a sales agency and it had rough sound on it and all which was really upsetting because everybody saw that. It went to LA and someone there made a copy of it for someone else and by the time I went to Telluride everyone in Hollywood had seen it because they were saying "Oh you have got to see this, you got to see this". So even before it was sold, there was a great word of month and it opened a lot of doors in the industry over there.
Can you tell us more about the film being picked up by Focus Features?
Focus is selling international and CAA is doing North America. Focus are doing great, they have already sold a lot to the UK and I think they have sold to Australia, France and a lot of other countries. Focus really is the blue chip company to do that sort of thing so it's great. We showed it to them first and they absolutely loved it so it worked from the start which was great and such a relief.
The visual style and lighting plays a big part in the film. Was that something that you had always incorporated into the script while writing it?
Yes, I think it's all part of it. The colours and how that all worked was written in. It's different when you are writing a script to try and sell it than when you are writing a script to make yourself. I have a new script and a screenwriter in the UK read it as a favour and said it is such a director's draft because I was not trying to sell it in the same way; I just wanted to make it. I just want to write what happens and make it. It's weird because when you write a script that you are going to direct, you are imaging all the other things as you go so it's not really script writing in the same way which probably has to be a much more disciplined thing. All those ideas come up along the way.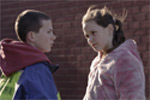 Kisses
Did you oversee the cinematography as well or was there collaboration on it?
At the start I was having difficulty in finding a cinematographer who I thought would make sense and work for the money we had. So I said I'm going to be the cinematographer but I talked to a few people about coming in and operating the camera, like good, technical people who would come in and take care of all the bits and pieces and that I could trust to really capture the stuff.
Essentially what it would mean is that if I was cinematographer I would be responsible for the stock, how it was lit and how it was exposed but that the operator would actually shoot it and make sure that, technically, it was working and they were capturing the image I needed to capture - because once we starting shooting I had to work with the kids so it was like a stretch.
Then we had a few camera operators who, because they were from a camera background, found it difficult that the director was the cinematographer so they got a little more involved in the cinematography than perhaps the original brief had been, which was a good and a bad thing. They brought qualities to it but then there was also a tension that came with that because I was insisting on doing it the way I planned to do it and they were trying to light it the way they thought it should be lit - when that wasn't the original brief. So that's why we had a few cameramen during the course of the whole thing.
They were all great cameramen but it's difficult for the cameraman if the director wants to light it. It's a difficult conversation for everybody. So in the end some of them were unhappy with how I dealt with the project, but the initial idea always was that I would do it and it wasn't because I wanted to do it but, because of the resources we had, there was no fully qualified cinematographer who was right for the project and who was available.
We had an extremely over qualified production designer called Waldemar Kalinowski who has made a million movies in America. He did 'The Fast and the Furious', which is how I got talking to him because I was doing this race car movie with him. I knew him through that but he had worked on other films such as 'Internal Affairs', and 'Leaving Las Vegas'. He came over and worked with a couple of the Irish art department guys and worked on a budget that none of the Irish production designers would contemplate working on. He had never worked on such a small film but he believed in what I was doing. He just loved the project and he rolled up his sleeves and said "Let's do it".
What was the budget for the film?
The budget was €1.65million. It sounds like a lot but we had kids and with them on set there are laws you have to obey, child labor laws etc. We could only work so many hours per day and had so many people on set to look after them. Suddenly you need trailers to put them in, the resources get chewed up, and they were a nightmare to work with. What was meant to be a five week shoot turned into a ten week shoot and, I mean they consumed the resources, so it turned out to be a very low budget in the end for what we were doing - but it was great. It was way more than I had spent on a film before.
With the Bob Dylan music featuring so prominently in the film, how did you go about getting clearance for using his music?
We shot the film without any permission. We used his likeness, put the music into the temp mix without permission and then we sent it off to them thinking "Oh please". I think it helps that we refer to him as a musical god in the film and that the music is right. It just works and there is nothing cynical about it which I felt from the fact that we were not using a Dylan track to get a cheap emotion out of it. It ties in so much with what's happening with the spirit of the film. Jeff Rosen, Bob Dylan's manager, liked the film and just wanted to make it happen so he helped us make it happen. Part of the agreement was that we wouldn't tell anyone what the deal was but it was good. We actually wrote the music knowing what the Dylan tracks were and trying to make sure we related to those. A lot of the scores are the same key as the Dylan tracks so we tried to make it all the one.
You also helped out with the soundtrack with GoBlimpsGo?
In more ways than a director probably should. The band are life long collaborators of mine. They have done the music for my last few films and I've played in the band for a few years before that. The band doesn't really exist beyond it being a collection of a lot of buzz between a lot of different people that played music and made records together a long time ago. They come back every time I make a movie and make a sound record. It is always different - from a collection of six or seven musicians there is always three or four that say "Yes ok". They are never the same group when they come back. It has always been the most enjoyable part of the process and always the part of the process that nobody has any questions about. Everybody has always been positive about the music so it seems to be working.
What director or films would you be influenced by or hold high regard for?
A lot, it is too long a list. I can't pick anybody out there are so many good films and I have not seen enough of them either. I have all sort of guilty confessions about movies that I still haven't seen and that I want to see as well. I am influenced probably as much by music as films. By music and writing of films, it's just films where I'm working but I'm not going to be drawn on naming anyone.
Are you working on anything at the moment?
Yes I have couple of films I could do. People who liked 'Kisses' suggested I do American films so I am thinking about it. Then there are two films that I want to make that I am trying to set up for next year. I have two scripts and it's at that point where either they will happen or I will take another job.
Lance Daly and the two young stars Kelly O'Neill and Shane Curry will attend the opening night of the film at the IFI on Friday 21st November with the three will take part in a Q&A after the screening.

'Kisses' will screen from Friday 21 st November at the following cinemas: Cineworld Parnell Street, Movies@ Dundrum and Swords, Vue Cinema, IFI, Lighthouse Cinema, Smithfield; Omniplex - Limerick, Omniplex - Mahon Point, Omniplex - Galway, UCI Blanchestown, UCI Coolock and UCI Tallaght. Element Pictures Distribution are overseeing distribution in Ireland