Oscar winning actress Hilary Swank was among the stars that descended on Dublin's Savoy cinema for the European Premiere of 'P.S. I Love You'. With scenes filmed in Ireland and based on the novel by Irish author Cecelia Ahern, the movie has a distinct Irish flavour. IFTN was there to taste some of the action…
In summer 2004, author Cecelia Ahern burst onto the literary scene with her debut novel 'P.S. I Love You', a romantic story that tapped the chick lit market and topped the bestseller lists in Ireland, Britain and across Europe. Later that year the then 21 year old scribe sold the film rights for 'P.S. I Love You' to US studio giant Warner Bros, who signed writer/director Richard LaGravenese to direct and adapt the screenplay.
Speaking to IFTN on the red carpet, the young author found it hard to contain her excitement on such a big night. "I'm so excited!" she enthused. "I've been talking about it for so long and I can't wait for everybody to finally see it."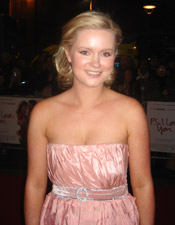 Cecelia Ahern on the red carpet
Fans of the book will be familiar with the story's themes of love and loss. In the film adaptation, two-time Oscar winning actress Hilary Swank (Million Dollar Baby, Boys Don't Cry) assumes the role of Holly Kennedy, a beautiful and smart young woman married to the love of her life Gerry, an Irish singer, played by Scottish actor Gerard Butler (Phantom of the Opera). When Gerry's life is taken by an illness, Holly discovers he had planned ahead before he died, sending her a series of letters that will guide her through her grief and rediscovery. The film also stars 'Friends' actress Lisa Kudrow, Harry Connick Jnr. (Memphis Belle) and another Oscar winning actress Kathy Bates (Misery, About Schmidt) in supporting roles.
Like most literary adaptations, 'P.S. I Love You' deviates from the original material in various ways and the producers' transferring the setting from Ireland to New York provides the most obvious contrast. Ahern said she had no input into where the movie was set, assuming it was to be filmed entirely in America, but upon discovering scenes where Holly visits her husband's family were to be filmed in Ireland she said she was "delighted that it was here at all" and thinks the country looks "absolutely beautiful" on screen.
"It was the studio's decision, before I came on board," Richard LaGravenese explains to IFTN. "The original script was all in New York so when I read the book I wanted to bring Ireland back into the movie somehow. So when I re-wrote it, I made Gerry Irish and in the book, he sends them to the Caribbean, so I had him send them to Ireland instead, so I could bring Ireland back. It was just an American studio thing that when they buy a book they have to Americanise it."
Richard LaGravenese
With credits that include 'The Fisher King', 'The Horse Whisperer' and 'Freedom Writers', the writer/director has worked on locations around the world, so why was this book and bringing the story back to Ireland so important to him? "It was an excuse to come to Ireland because I really love it here" he says. "I was charmed by the book and the characters that are in there. I lost a good friend of mine so the book meant a great deal to me personally." And when quizzed by IFTN on how his Irish filming experience compares to any other, he says, "what's unique about Ireland is that there are four seasons in one day, so the lighting changes all the time. But the crew were great and the experience was just wonderful, it was beautiful."
Looking stunning in a cream Yves Saint Laurent dress, Oscar winner Hilary Swank was welcomed with cheers as she stepped onto the Savoy's red carpet. The actress posed for pics, signed autographs for fans and raved about her time spent in Ireland. Filming for the movie took place in Wicklow and additional scenes were shot in Whelan's pub in Dublin. Describing Wicklow's National Park as "stunning" she said, "we were just here for three weeks and, as you know, Ireland is such an important character in the movie. It was fantastic and it's such a beautiful country. I'd just wish I'd spent more time here."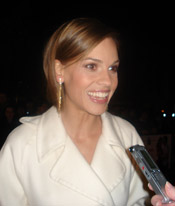 Hilary Swank talking to IFTN
Despite the cold December weather, the excitement was blistering as Cecelia's father, An Taoiseach Bertie Ahern, and her sister Georgina joined the celebrations alongside Ronan Keating, Westlife's Nicky Byrne, Fair City actress Claudia Carroll, musician Moya Brennan and designer John Rocha among others.
Leaving the cameras behind IFTN asked Cecelia Ahern what advice she would offer people going to see the film this weekend given her book is such a notorious tear jerker? "Definitely bring some tissues," she laughs, "my bag is full of them!"
'P.S. I Love You' is released nationwide on 21 December.
Group shot and Richard LaGravenese pics courtesy of Yvonne Donoghue.