Gaining hands-on experience with famous actors as a day-job seems like the ideal occupation for many film buffs. But when this hands-on experience involves dressing 170 extras just days before they are scheduled to shoot, and designing costumes for new characters that have been announced just two days before their fitting, at times the job can more tedious than thrilling.
Irish designer Lorna Marie Mugan has the task of dressing up to 79 cast members and over 1,000 extras on the set of BBC thriller 'Ripper Street', currently filming in Clancy Barracks in Dublin.
IFTN got a sneak peek into the costume department of the eight-part series, which stars 'Pride and Prejudice' star Matthew Macfadyen, 'Soldier Soldier' hero Jerome Flynn, and American actor Adam Rothenberg (Alcatraz).
The drama is set in Whitechapel, London, in 1889, the scene of the Jack the Ripper murders which caused a national manhunt for the serial killer.
Macfadyen, Flynn and Rothenberg all play police men hunting the unidentified murderer.
Clancy Barracks, once home to Ireland's soldiers, has been transformed from a military base to a cobbled-haven of 19th century amenities, including a prison, tenement houses, and a pub.
Mugan's costumes reflect the sombre era, which she thoroughly researched before sitting down to design. "We're specifically 1889, but in the Victorian age things didn't change hugely from year to year. Most people were poor, the whole area here is in abject poverty so the basic wardrobe wouldn't have changed probably for 20 or 30 years."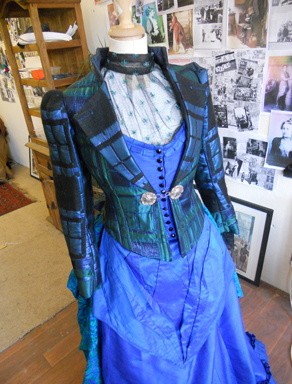 One of Mugan's 1890s creations for 'Ripper Street'
The poverty-stricken characters are kitted out in Victorian-style rags, which Mugan and her team painted, dyed and treated to give a slum edge. With over 600 extras per block on the set, (they are currently in block three) Mugan sourced the extras' clothing from traders in London. One whole area of the costume department is dedicated to the extras' clothing, with rows and rows of perhaps the most expensive rags lined up, waiting to be used for a massive strike scene this Saturday.
The wealthier characters' costumes were something Mugan could get her teeth into, with Detective Reid (Macfadyen) sporting the more outlandish costumes. His colour of choice is blue, among a sea of solemn grey. Mugan says: "Our lead characters have other stories to tell from different places, so for example Detective Reid was a real man who was quite elegant and I kept him as a very strong silhouette. We don't really have anything other than blue in Whitechapel, the palette is quite muddy otherwise.
"We're not really sure even at this point where Jackson (played by Rothenberg) is from or who he really is. We know he has a connection to Pinkerton in his past, so there's a bit of mystery in his costume. We added oriental touches, his fob watch is oriental and the markings in his jacket are not English, so we're leaving it open as to where he is from."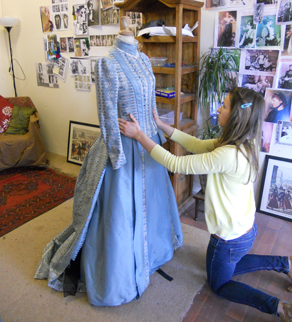 A costume designer works on one of the dresses
Mugan's job starts before any production work is done, as she has to read the script right the way through in order to find out who the characters she is dressing really are. After that initial process, she has more control over what direction to take the designs in, and even helps shape character development with her creations. "We [the directors and actors] share stuff, it's instinct, you look at pictures, but your instinct is slightly different. It is design at the end of the day, it's not just referencing everything [from the Victorian Age]. Along the way you can make a statement about somebody and that can be brought into the writing further down the line."
Mugan is no stranger to designing for period dramas, having been nominated for an IFTA this year for her work on TV series 'Treasure Island'. "You can be more creative [with period dramas] because less people understand the period, so you have more control in a lot of respects. You can present your ideas, whereas in contemporary productions everybody would have an opinion. It's sometimes hard to separate the character from the actor and what they'd like themselves to look like. That's always a challenge for any designer with contemporary but definitely with period dramas, you have a licence to push the boundaries quite a bit."
Working on a set that's on such a scale as 'Ripper Street' (it is estimated the production is bringing €8 million revenue to Ireland), Mugan feels more freedom with her designs and creativity.
"This has been really fun and different because I haven't actually done eight episodes before, I've done one or two part dramas, where you saw the final goalpost. This has been revealing all the time so it's a whole different way of thinking, I just don't know what's happening to all these characters," she said.
With filming continuing for another nine weeks at least, Mugan's job is an ongoing process, as new characters are being cast all the time. Just last week, Sam Hazeldine (The Raven) joined the cast, with Mugan given just three days notice. This meant she had to fly to London for a fitting and supply a costume within two days.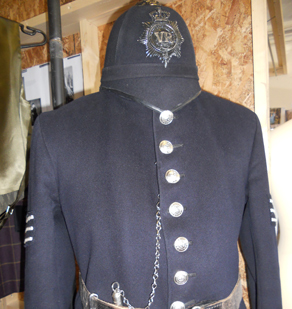 The series focuses on British police hunting Jack The Ripper
The fact that she doesn't want the costumes to look "textbook period" means sourcing materials and renting already-made designs is not as simple as it seems.
Another two characters are joining the cast, who will be members of the Pinkerton Family arriving from America. This brought on a different challenge for Mugan and her team, as the characters hail from a wealthy background. "It's quite exciting, the Pinkerton's arrive from America, so this is a link to Jackson's past. They're interesting characters, the Pinkerton's were detectives in New York so they had a very distinctive look, very distinctive hats, so that will bring a nice fresh look to Whitechapel," she said.
The designs for the female characters are Mugan's favourite, with tight corsets hidden by neat petticoats and topped off with bustling skirts. Mugan admits the corsets can be quite uncomfortable, so the female actors only change into costume as soon just before they're needed on set.
Mugan and her team are now getting ready to dress 170 extras for a mob scene to be filmed this Saturday in the barracks. Each design has been fitted and tagged and are ready for their close ups.
See Mugan's designs in our IFTN Gallery here. Next week, IFTN will have another set-report straight from 'Ripper Street', with all behind-the-scenes access and production news.
'Ripper Street' is being co-produced by Irish production company Element Pictures with Britain's Tiger Aspect Productions, Lookout Point and BBC America. Filming on a budget of €8million, the series is being made with the participation of the Irish Film Board. BBC Worldwide is distributing the series globally.
Ireland's Colm McCarthy (Injustice, The Tudors) is directing while production designer Mark Geraghty (In America, Death Of A Superhero, Leap Year) is among the key Irish crew members. More than 250 Irish crew are working on the series, which is due to continue shooting until late July. Post-production will be carried out in Dublin with Screen Scene VFX and Egg Post Production.